Pumping Principal:
       Pumping operation of JRP series Roots effected through two '8'shaped rotors in pumping chamber rotating opposite directions. With drive ratio of 1:1,two rotors constantly seal against themselves without touting each other and the chamer. The gaps between the movabls parts are narrow enough to seal against the exhaust side and intake side in visous flow and molecular flow,so that to chieve the purpose of pumping the gas in the chamer.
When the rotors locate at 1 and 2 in the chamber,the volume of air inlet will increase. When the rotors locate at 3 in the chamber,part of air volume will be blocked out from the air inlet. When the rotors locate at 4,this volume will open to vent.When the rotors further,air will discharge through the air outlet. Rotors will rotors more than two coures once every rotates.
The pressure difference between the inlet side and outlet side of roots pump are limited. JRP series roots pump adopts a bypass valve.When the value of pressure difference reaches to a certain figure,the bypass valve opens automatically.Some air volume from the outlet side flows to the reverse direction of inlet side through the bypass valve and reverse passage,which reduce the operational load of roots pump and front-stage pump greatly in the condition of high pressure difference.Meanwhile,due to the function of unloading when bypass valve opens,it makes sure JRP series vacuum pump and front-stage pump start at same time to aviod the overload for both of them.
The roots pump has to be worked as pump unit together with front-stage pump(such as rotating vane pump,slide valve pump and liquid ring pump).If it is required to reach to higher vacuum degree,two sets of roots pumps can be connected to work as a three stage roots pump unit.
Good Characteristic:
*There is zero friction between rotors,also between rotor and pump chamber,so there is no need of lubricating oil.Consequently,our pump can aviod the oil    pollution on vcuum system.
*Compact structure,and easy to install horizontally or vertically
*Good dynamic balance,stable running,small vibration and low noise
*Can pump off the non-condensable gas
*Quick started and can achieve the utmost pressure in a short time
*Small power and low operation maintence costs
*The bypass value on roots pump can enjoy the automatic overload protection effect,so that the operation will be safe and reliable
 Application Range:
*vacuum drying and impregnation
*vacuum degass
*vacuum predischarging
*gas exhausting
*for the processes in vacuum distillation, vacuum concentration and vacuum drying in chemical industry,medicine,food and beverage,light industry and textile industry
ITEMS

Units
JRP-150
JRP-250
JRP-500
JRP-1000
JRP-2000
Pumping rate
m3/h
153
253
505
1000
2050

Ultimate pressure

Pa
0.05
Extreme full pressuer
Pa
0.5
Max.Differential pressure
Pa
8000
5000
In and out of caliber
mm
65
65
65
100
150
Max.of zero flow compression rate
max
≥35
≥35
≥40
≥40
≥50
Noise
Db(A)
63
63
63
68
75
Motor power
kW
1.1
1.1
2.2
4
7.5
Motor synchronous speed
r/min
3000
Cooling model
natural air cooling
     Weight
kg
90
100
155
233
465
Recommend backing pump models
X-63, 2X-8
X-100, 2X-15
X-160, 2X-30
X-302, 2X-70
X-630,two2X-70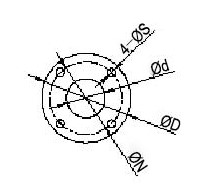 Dimension

A

A1

A2

H1

H4

L

L1

L2

F

F2

H3

H2

I

d

S

D

N

JRP-150

JRP-250

JRP-500

JRP-1000

JRP-2000

570

740

845

1080

1276

300

325

395

485

642

290

280

316

370

486

285

285

350

419

530

348

330

446

553

760

355

420

370

510

740

240

240

237

290

388

194

185

218

240

292

165

209

236

301

370

180

180

238

302

410

5

5

35

49

44

168

160

207

252

351

37

37

106

129

154

70

70

70

100

150

M12

M12

M12

M16

M16

160

160

160

210

265

130

130

130

170

225